On-site septic systems are very important to your business and your residence. Whether you choose a poly septic tank or one made of concrete, a basic knowledge of each one, their advantages and disadvantages, will greatly benefit you in choosing the right one that complements your needs and saves you money.

First off, as mentioned earlier there are two popular types of material used in building septic tanks. Concrete, which is strong and very heavy; and polyethylene, which is also strong, but is extremely light in comparison.


Septic Tank: Concrete vs Plastic


Concrete Septic Tanks
Although concrete septic tanks are known to last a long time, they have a lot of weaknesses especially when maintenance over the years is poor. They can even crack early on if the quality is substandard.

Concrete Septic Tank Advantages

Are said to be long-lasting with proper maintenance.
So, you're not going to accidentally punch a hole into it when doing some work on your property.



Concrete Septic Tank Disadvantages

As mentioned earlier, concrete septic tanks are heavy. Because of their heavy weight, they require different types of heavy equipment during installation, leading to more expense.

These septic tanks will deteriorate over time and collapse without proper maintenance.

Easily cracks if the material is not mixed properly during casting.

More prone to leaking than plastic septic tanks.

Concrete is extremely porous. Therefore, it needs to be lined which extends the time of installation. The lining also needs to be replaced to prevent it from acquiring leaks.

Cracks can allow roots to grow in and compromise tank integrity.

Cracks in the tank may cause an environmental health issue.

This tank may require the lids and base to be sealed before use.

More expensive than poly.

Prone to rust and corrosion.

Complicated to repair/maintain. When damaged, foul-smelling waste could seep to your property.

Difficult and costly to repair.

Difficult and costly removal once past its lifetime when it needs to be replaced or disposed of.



Poly Septic Tanks


Poly septic tanks have benefits that outweigh their supposed downsides.


Poly Septic Tank Disadvantages

Possibly the one main thing that people make an issue out of plastic septic tanks is that they are lightweight and could "float" when water tables rise (e.g. during extremely heavy rainfall). However, there are remedies to prevent this from occurring.
Coerco's 2,200-litre poly septic tank.

Poly Septic Tank Advantages
Poly septic tanks are watertight despite their lightweight quality.

Weight: around 200 kilograms.

Easy to install. The lightweight quality of poly septic tanks makes them easier to install than their concrete counterparts, requiring fewer employees, fewer equipment (only one piece of heavy equipment is needed) and less time. This translates to lower installation costs.

Easily transported by you, the consumer, or delivered by the manufacturer or distributor. Poly septic tanks are also more adaptable – meaning they can be placed in several different locations that may not be ideal for concrete.

Cheaper. The purchase price of poly septic tanks is much cheaper compared to the concrete alternative.

Poly septic tanks come ready to be set and connected.

More easily relocated compared to concrete.

Completely resistant to rust and corrosion.

Less prone to cracking.

More hygienic.
---

So what is the best septic tank system to use?


It's clear that both concrete and poly septic tanks need maintenance. When it comes to deciding which type to pick, however, you might want to consider the future. What changes will be made on your property then? What about cost of maintenance, removal and relocation?

If you want to go with the easiest one to maintain, install and transfer while being reliable at the same time, poly septic tanks are clearly the right choice for you.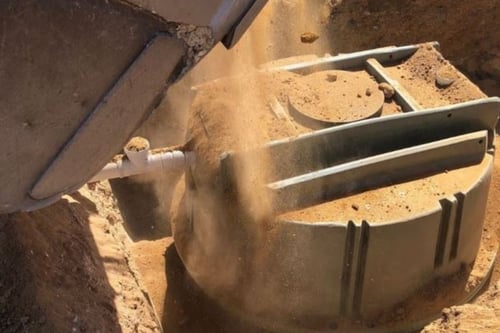 4,000 litre poly septic tank from Coerco.

If you found a professional, well-organized, and innovative company that can satisfy all of your business and residential needs, you would call them, wouldn't you? When considering a wastewater tank for your business or residence, your best bet is the market leader in septic systems.


---

How much does a septic tank weigh?


And why is weight significant?
Poly septic tanks weigh approximately 200 kilograms while their concrete counterparts weigh about 1,500 kilograms.

The implications of heavy septic tanks

For many years, concrete has been the preferred material for septic tanks. However, concrete is a very heavy material. This creates higher costs when installing a septic system. The need for a bigger truck and a crane is only the beginning costs of working with concrete septic tanks.


Septic tank removal

On the other hand, the average poly septic tank weighs less than the standard cover to a concrete tank. This makes poly tanks easier to work with and install.


Can a septic tank be moved?

Changes around your property or household may require you to transfer your septic tank to another location. Because some types of septic tanks – like concrete – are heavy and more difficult to move, some find it much easier to simply buy a new septic system rather than move an old one.

To answer the question, yes, a septic tank can be moved.

Note that concrete septic tanks present some danger due to their weight and are susceptible to falling apart. In contrast, poly septic tanks are much more lightweight and less complicated to move around.

Coerco's 4,000-litre poly septic tank. Lightweight and easy to install.


Related article:

Avoid a Septic Sob Story: 2 More Types of Septic Tanks [with Pros & Cons]

Editor's Note: This post was originally published on October 6, 2017 and has been revamped and updated for the purpose of accuracy and comprehensiveness.